Practice Administrator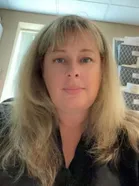 Lisa Madron - Our Practice Administrator. Lisa supervises our healthcare facility to ensure that Diamond State Chiropractic is running efficiently. Lisa fulfills a variety of roles, working within areas of general management, patient billing, facility issues, medical information systems, program expansion, and quality of care. Lisa continues her education and remains involved in the constant health care changes and regulations. With 20+ years in the medical field, Lisa prides herself on continuing to operate a smooth and efficient office.



Lindsey Toller - Office Manager and Billing Specialist. Lindsey has over 12 years in the medical field. You can find her helping with billing questions, handling patient care, and assisting throughout the office wherever she is needed. Lindsey can handle any questions regarding your chiropractic care. Lindsey strives to make sure your experience here at Diamond State Chiropractic is nothing short of the best!
Hailee is our Patient Care Coordinator and Chiropractic Assistant. You will see Amanda throughout the office on a daily basis. Amanda's goal is to make your visit the most pleasurable experience, whether it's helping with you make your appointments, rescheduling, or assisting with rehabilitation. Amanda is a team player in the workplace and makes every effort to make you confident about your health!
Chiropractic Assistant's

Jilennia, Amanda and Gabrielle are our friendly and knowledgeable Chiropractic Assistant's. They can help you with all appointment related questions or concerns. They assist with all doctor recommended modalities. Amanda, Jilennia and Gabrielle will make your visit to our office relaxing and enjoyable.